Commemorative rocks placed for deceased parents 
I spend a good deal of my academic time considering how childhood trauma impacts the elderly. Child survivors of the Holocaust share with me their wartime stories as well as the decade upon decade of the aftermath. Many went on and lived full lives — lives that never shook their past but expanded to something more.
These hundreds of hours with child survivors prepared me for my summer work this year. I spent time at Circle Camp at Fleur de Lis with an astonishing team of fellow counselors and over forty girls 9-15 who had lost a parent.
While death brought us together, I spent most of my time leading folks in silly songs, teaching the girls how to do contortions with a broom, and exploring with them the difference between fresh eggs from Richard's farm up the hill and the industrial eggs sent from Sysco.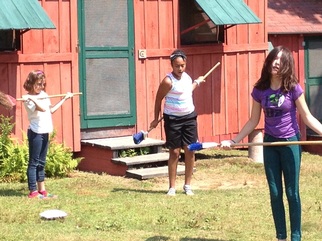 I did have the great privilege of working with our social worker Ellen, spending a full day hearing the story of every girl at camp. During the "Grief Circle"  the girls shared stories and pictures with the other girls in their bunk. They talked about how their parent died, who they lived with now and some of their on-going fears. Some didn't know, for example, what would happen if their remaining parent died; some had already gone into foster care or had been adopted. Many have had to change schools and leave their friends as a result. Death was only part of the loss.
Listening to them, I felt at home. That sounds odd perhaps. Maybe because people were being real; kids are SO real and when they talk about what matters to them, I cannot help but remember what matters to me.
I think one of the best things we can do for someone is to bare witness to her experience without trying to judge or change it. Instead of turning away from the sadness and trauma, we can just be there with them. Ask questions and help them elaborate and give words to some of their internal world.
They say that not feeling alone…being surrounded by others like them is one of the best parts of camp. I believe it.
I know from talking with survivors of trauma that these girls lives will be shaped in large ways by this experience. It's not something they will simply grieve for a year or so and then move on. With support, however, they can find others to step up and take on some of the parenting roles in their lives. They do not necessarily have to "grow up" so quickly because of this loss.
It may sound mystical or a bit etheric to say this — in some way, I feel that the survivors were comforting these girls through me. They showed me how to just "be" with people — it was too late to save them from the Holocaust just as it's too late to save these girls' parents. It's not too late, however, to be together. We shared a precious moment to together– we lamented, celebrated and even enjoyed a little gloppy camp food.